More than 275 vehicles and trucks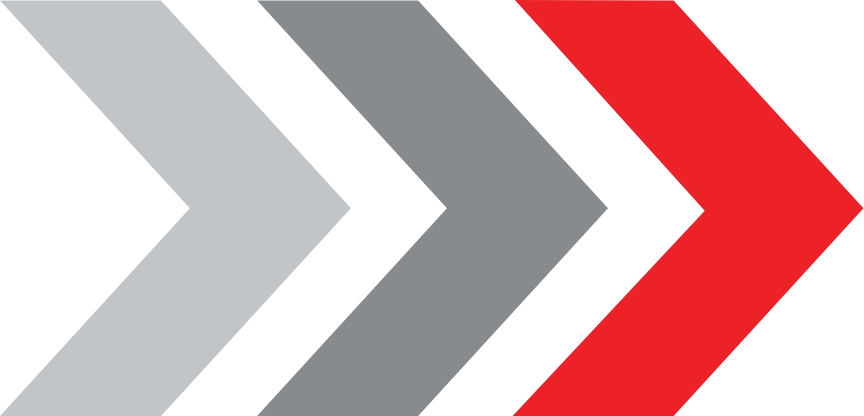 THE MOST BEAUTIFUL AND PERFORMING FLEET.
Our fleet of trucks is custom designed by our team to meet the highest performance standards. We have more than 275 registered vehicles and trucks driving on the roads of Quebec to serve you. All our trucks: whether hydro-excavators, scourers, service pick-ups, etc. are equipped with the latest technology and are designed to be as efficient and effective as possible. Sanivac has the best fleet of trucks in order to offer you a service that meets your expectations and complies with the strictest standards.
The hydrovac truck allows you to drill the ground by hydro-excavation, which is a gentle excavation method that does not harm the utilities in the ground (gas, electricity, aqueduct, sewers, etc.). Our trucks are equipped with a pump with a force of up to 6400 CFM, 28 inches of mercury, a pressure of up to 20 GPM, 6000 PSI and a long boom of up to 28 feet. In addition, some of our hydrovac trucks are also equipped with a 185 CFM compressor to perform pneumatic excavation.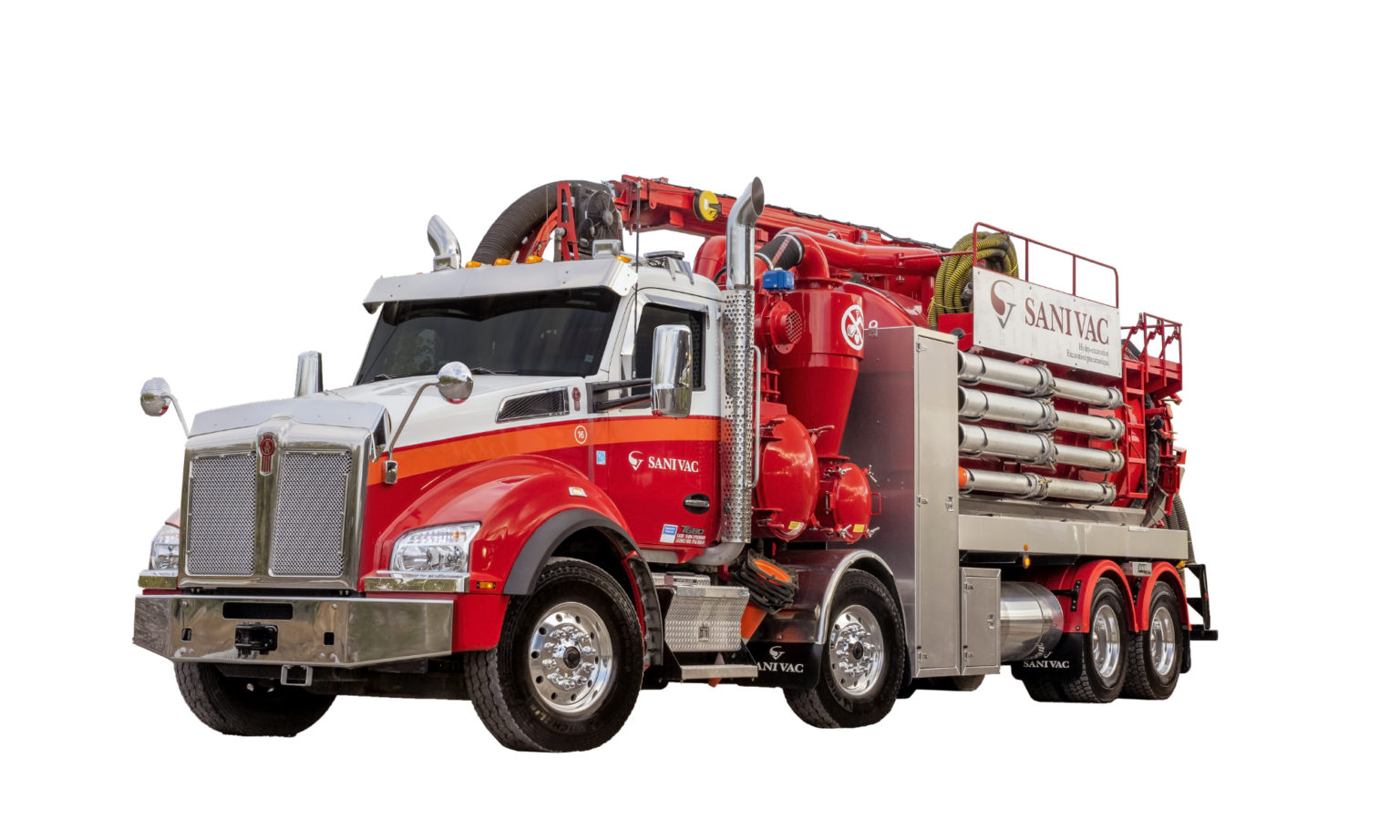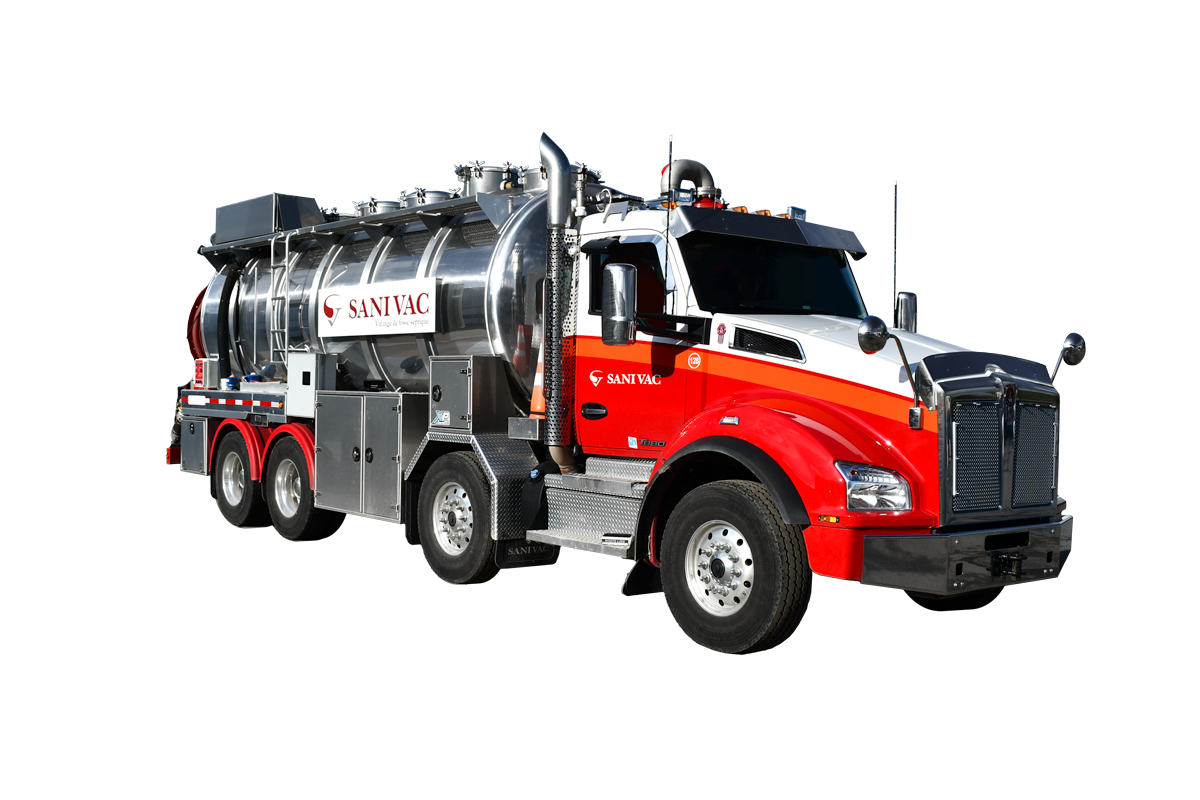 SEPTIC TANK EMPTYING TRUCK
The septic tank emptying truck allows the emptying of tanks thanks to its two tanks which allow the pumping of liquid and solid materials up to 3000 gal. Our trucks have filters that filter the waste water from the pit during pumping, filter it and return it to the pit once cleaned. This allows the bacterial flora to be distributed in the pit to allow its proper functioning and allow the decomposition of solid matter. This also makes it possible to reduce the quantity of harvested material to be processed, which is more ecological and respects environmental standards.
The grease trap emptying truck makes it possible to carry out the complete emptying of the tank, the cleaning of the pipes and the walls of the trap thanks to its tank, thus allowing the collection of greasy materials and sludge. The truck is also equipped with a sweeper for places that are difficult to access with the truck and a water hose that allows the hatch to be cleaned once the pumping is done.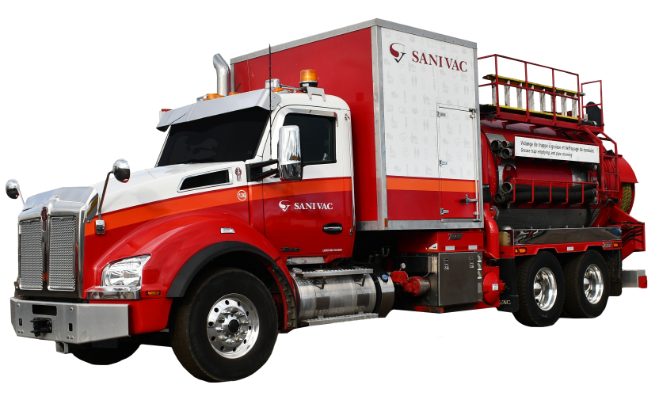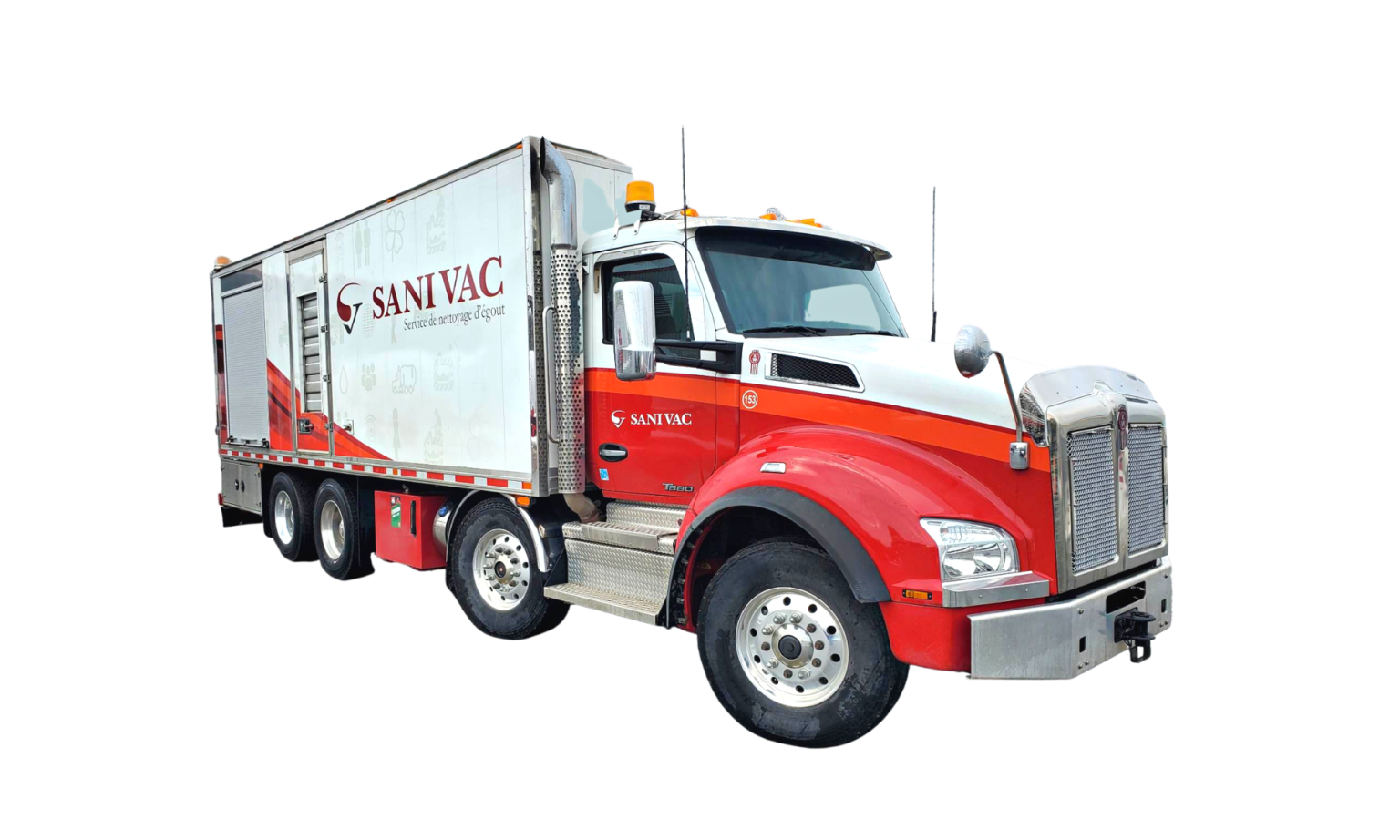 The sewer truck is a low pressure truck that is used for cleaning pipes, storm and sanitary sewers, culverts, garage drains and overhead pipes. Our trucks are equipped with several types of pressure hoses; 1 in., ½ in. and ⅜ in. allow you to clean several types of pipes. The trucks are equipped with an 80-90 GPM pressure system with 2000-3000 PSI, 1,000,000 – 1,500,000 BTU burners that allow for thawing lines or cleaning greasy lines. Our trucks are equipped to clean pipes up to 600 feet and they have a water tank up to 3000 gallons.
Our de-icing trucks are custom built to de-ice different surfaces with dry steam with optimal efficiency. Our trucks can heat up to 2,000,000 BTUs. They can also feed up to 3 hoses simultaneously, up to 300 feet per hose. This allows us a high efficiency of execution without wasting time. Our trucks have a maximum capacity of 1000 gallons of water with the possibility of filling up at a fire hydrant or by a tank truck.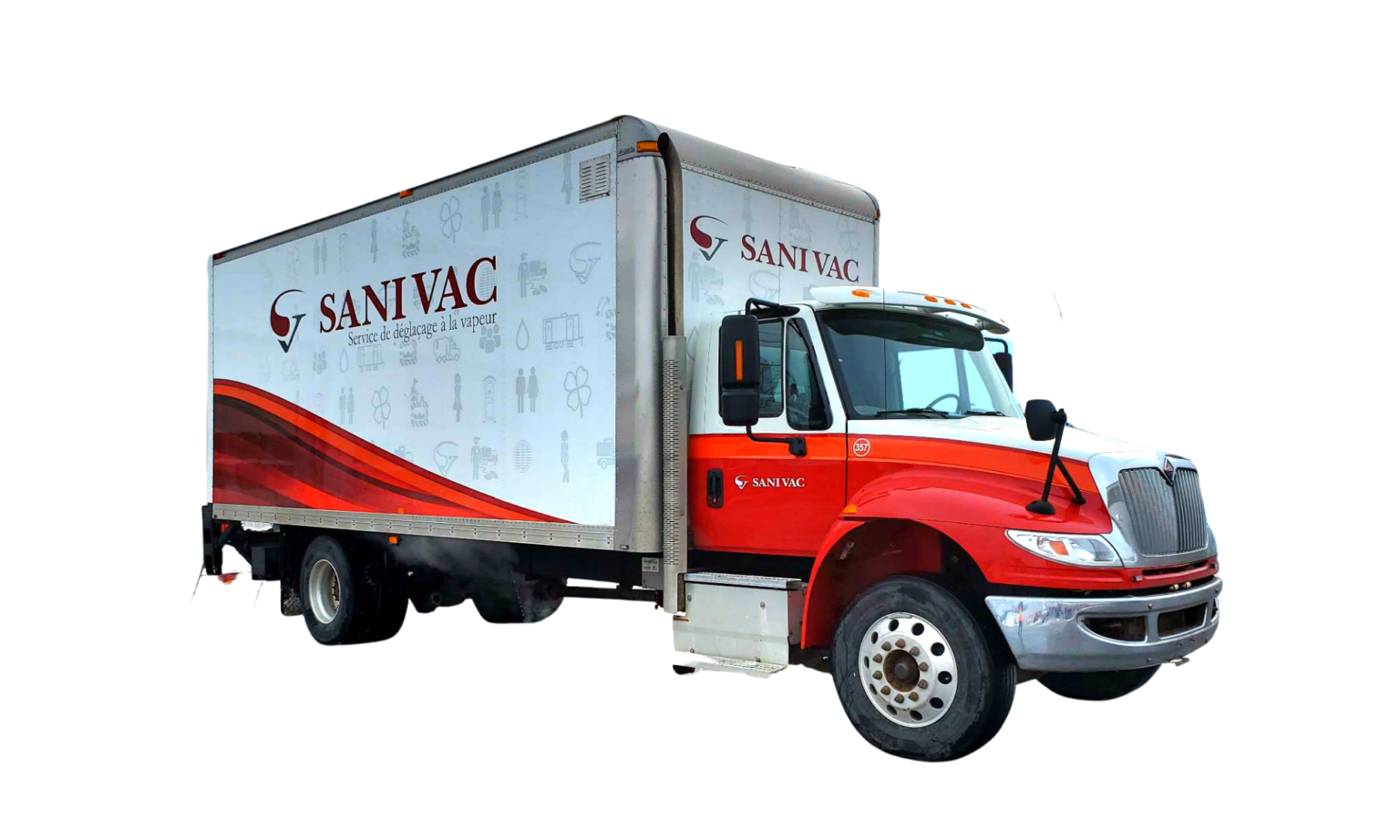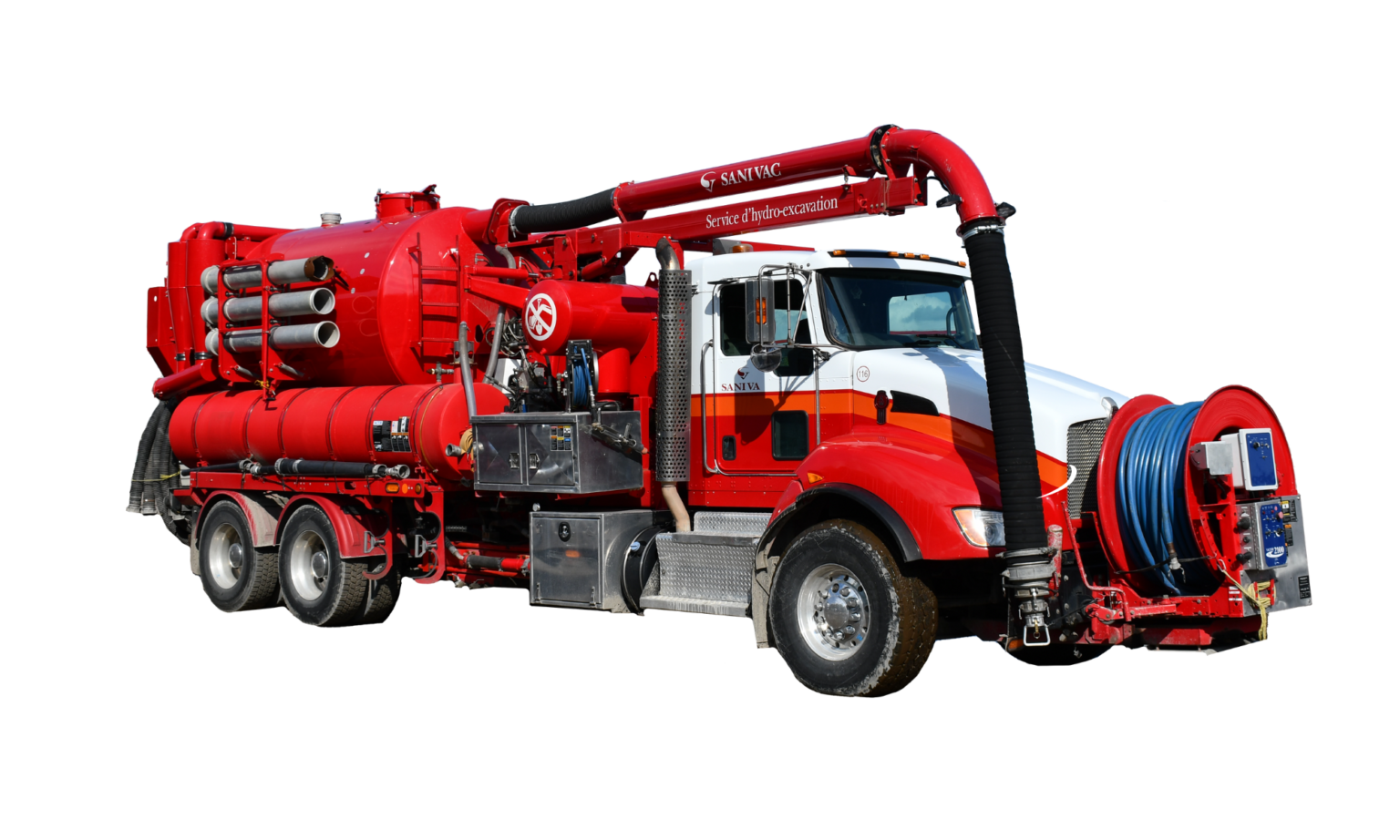 The hydro combo truck is a hydrovac truck that also has a 1″ pressure hose at the front of the cab that allows it to perform hydro-excavation and also clean sewers and pipes. The truck has a larger water tank than the hydrovac and the 1″ hose has a high flow rate of 80 gallons per minute which allows it to dislodge debris quickly and efficiently. The combined hydro truck is versatile since it can meet several needs.
We have several types of various vacuum trucks that allow dry pumping, wet pumping, others are specialized for sump pumping and others, more powerful, for work that requires more hose length. Our vacuum trucks are all equipped with several suction hoses from 2 to 8 inches in diameter and a 3000 gallon debris tank that allow pumping and unblocking of all kinds.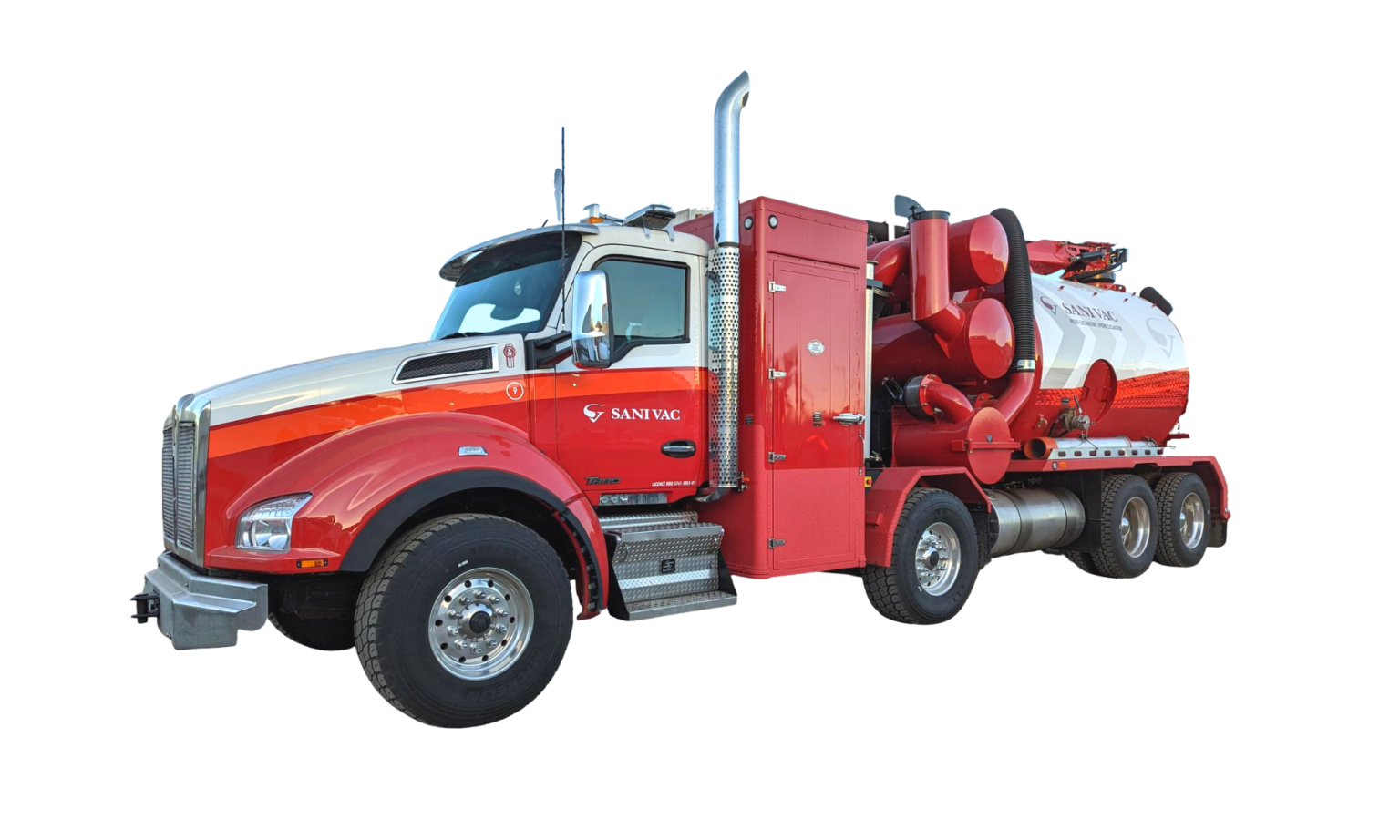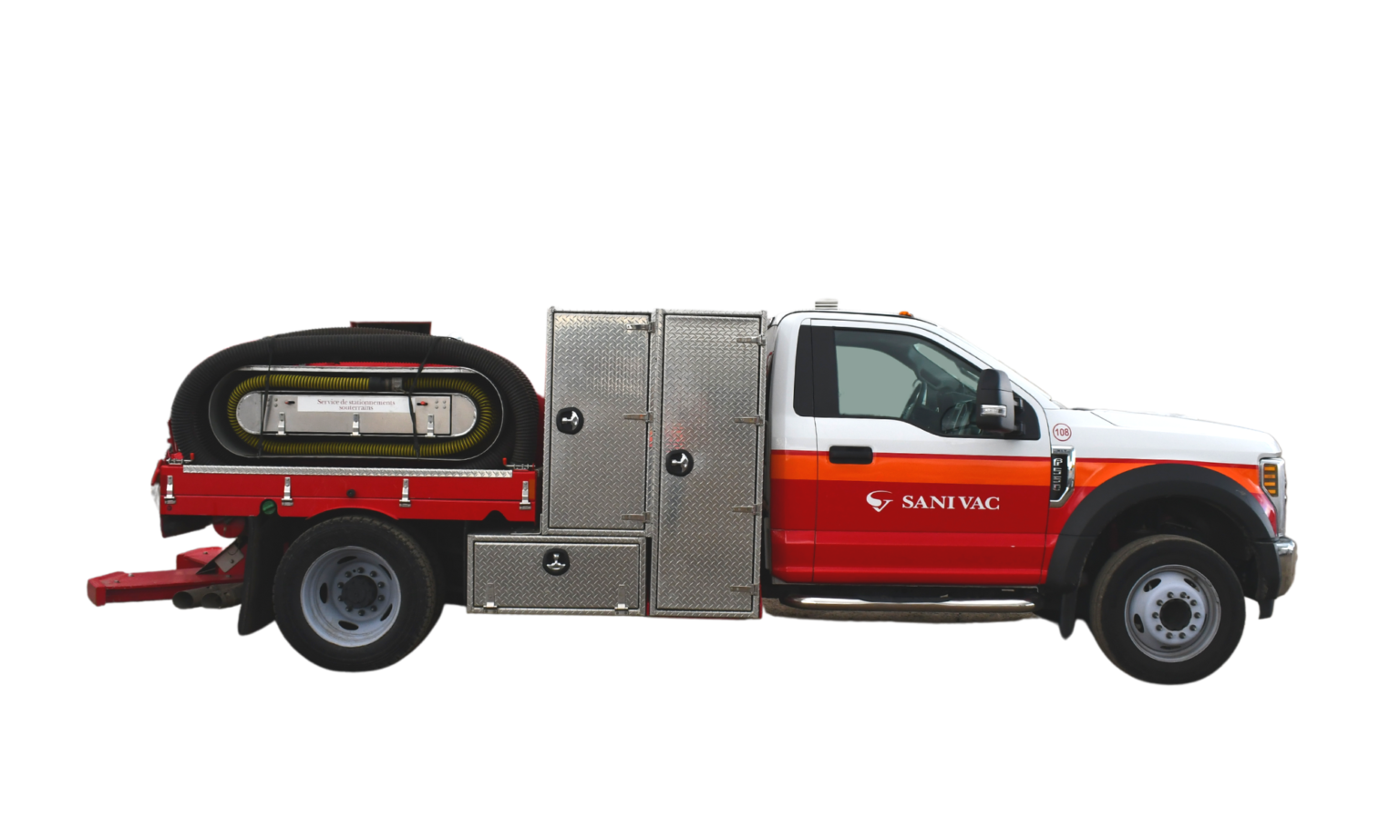 LOW PROFILE VACUUM TRUCK (MINI-VACUUM)
The low-profile mini-vacuum truck is custom-made to access restricted areas where regular vacuum trucks do not have access, such as garages and underground parking lots, alleys, spaces with restricted heights. It allows to have direct access to the installations without neglecting the efficiency and the pumping power. The truck can go as low as a 73 inch spot and it comes with a 500 gallon debris tank, 900 CFM pumping capacity and 28 inches of mercury.
The vacuum tank truck can transport a large quantity of liquid thanks to its 8500 gallon tank. Generally, it is used to transport waste water and send it to water treatment centers, but it can also be used to supply other trucks with water during major works or when it is not possible to use the fountains. It is also equipped with a vacuum hose that allows it a pumping capacity of 1600 CFM and 28 inches of mercury, which makes it autonomous to empty certain types of tanks.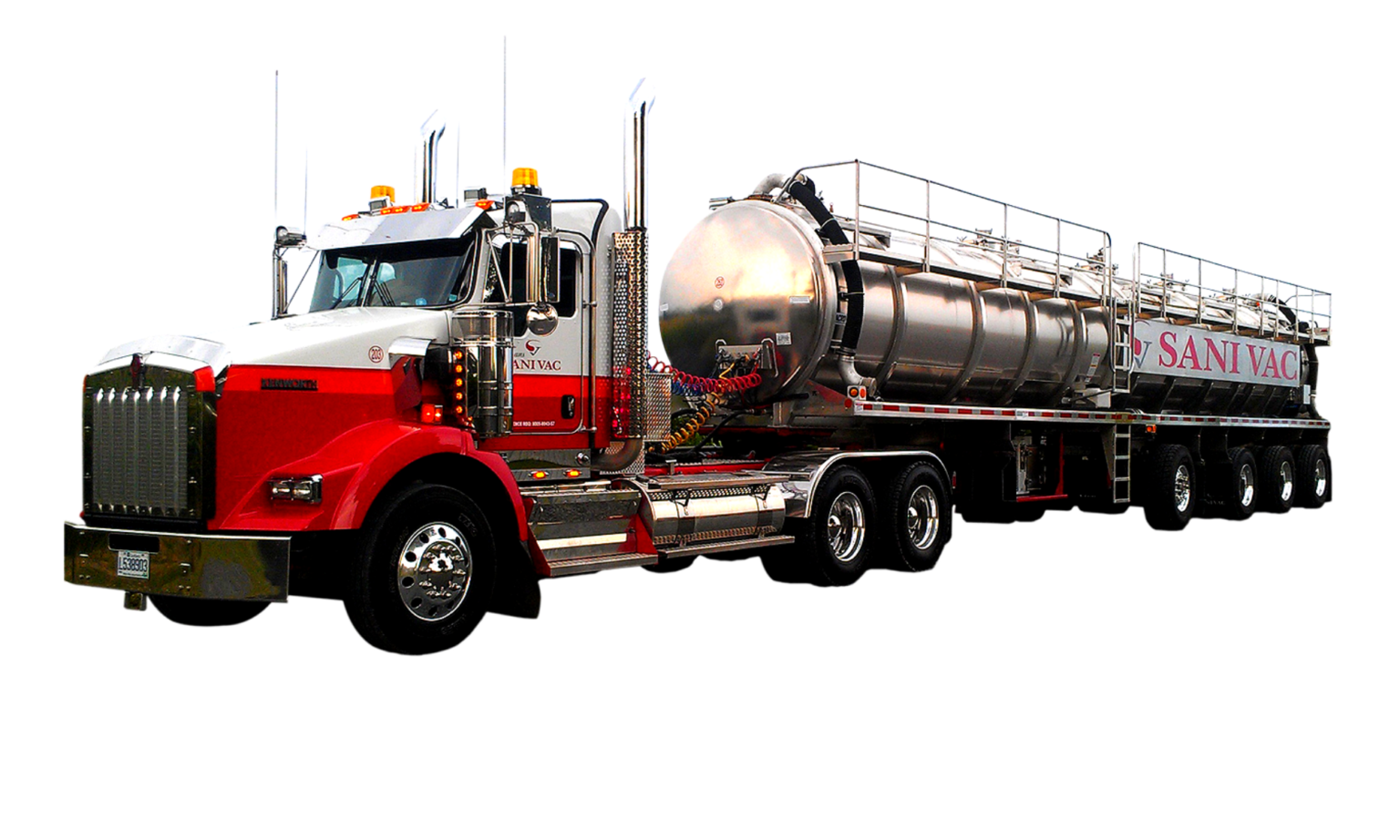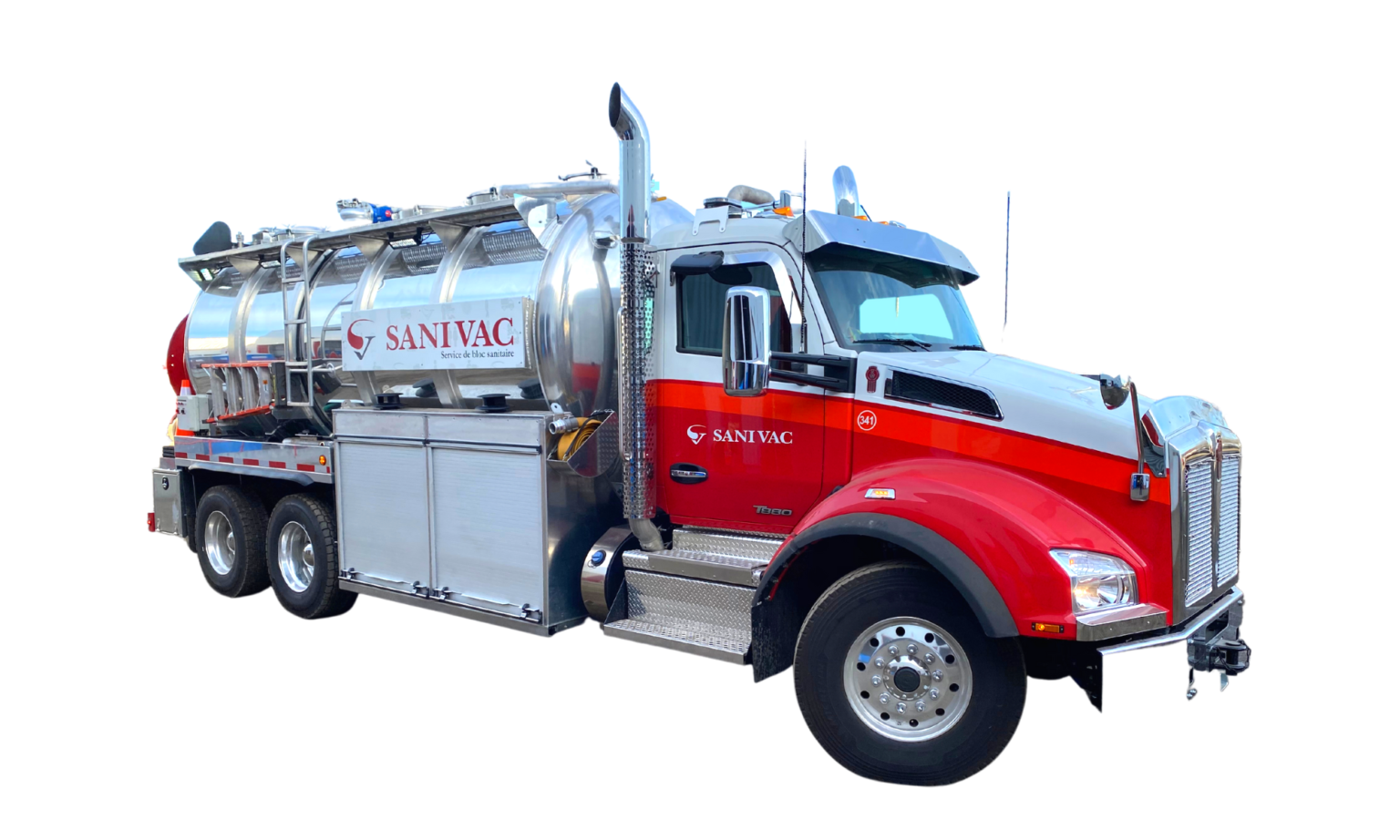 TOILET BLOCKS SERVICE TRUCK
These service trucks are used to perform cleaning services for sanitary blocks and trailers. They make it possible to pump, clean and restock the blocks and trailers directly at the rental locations. The trucks are similar to those in the washroom service, but they have a larger tank of clean water to fill the sinks with larger volumes. The water supply is made year-round, summer and winter. They also make it possible to restock the toilets with paper and soap since they are equipped with several compartments for sanitary supplies.
Toilet service trucks are used to perform portable toilet cleaning services. They make it possible to pump, clean and replenish the toilets directly at the rental premises. The trucks are equipped with a tank of clean water to fill the washroom sinks year-round, summer and winter. They also make it possible to restock the toilets with paper and soap since they are equipped with several compartments for sanitary supplies.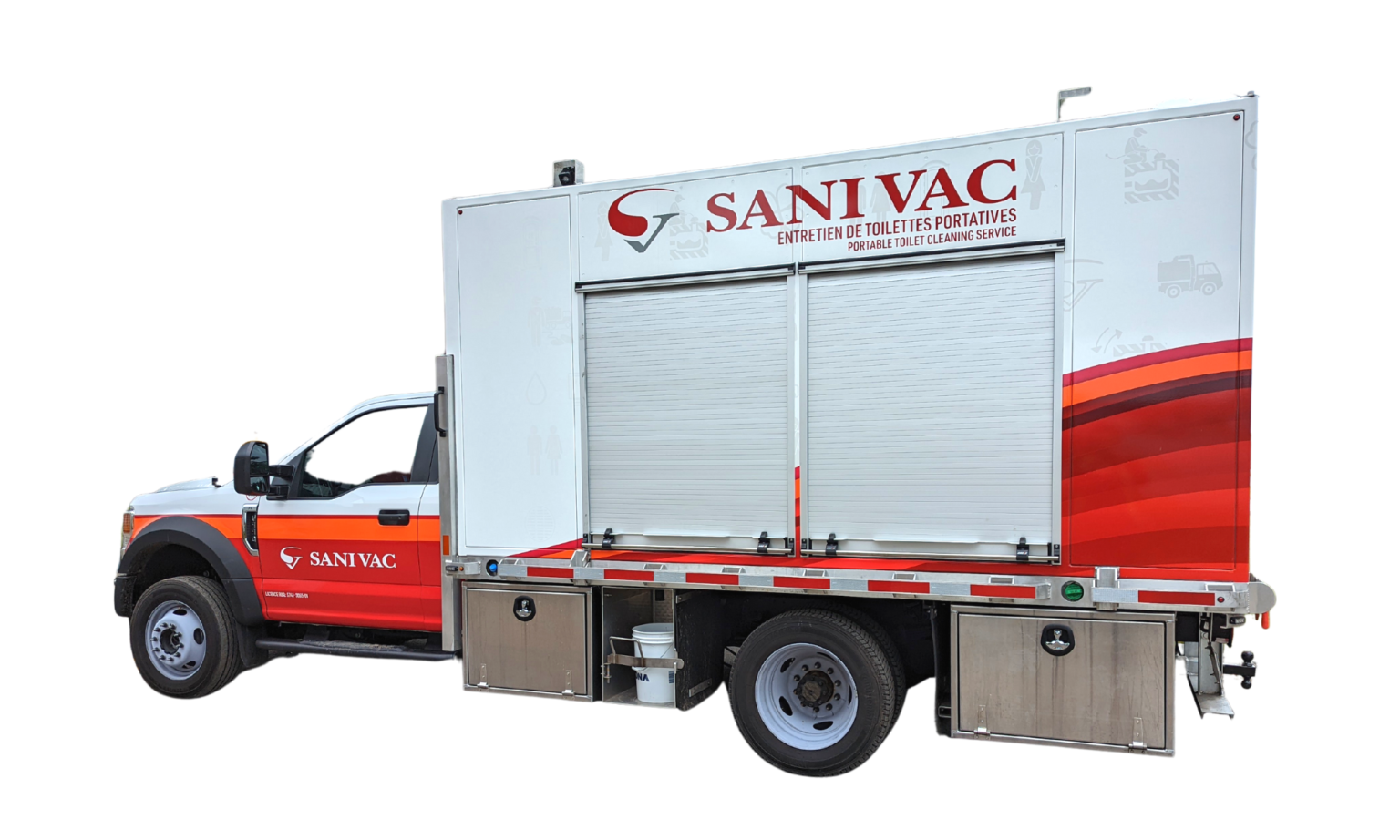 The tow truck makes it possible to deliver toilet blocks independently, thanks to its all-terrain forklift that allows the units to be moved to the desired location. The truck is equipped with a water tank to be able to supply the blocks and trailers with water during delivery.
The toilet delivery truck has a large platform with a lift that allows it to move and deliver several chemical toilets manually. The truck has a tank of clean and dirty water to supply the toilets with water and to carry out the cleaning services of the units. This allows delivery and commissioning in a single trip.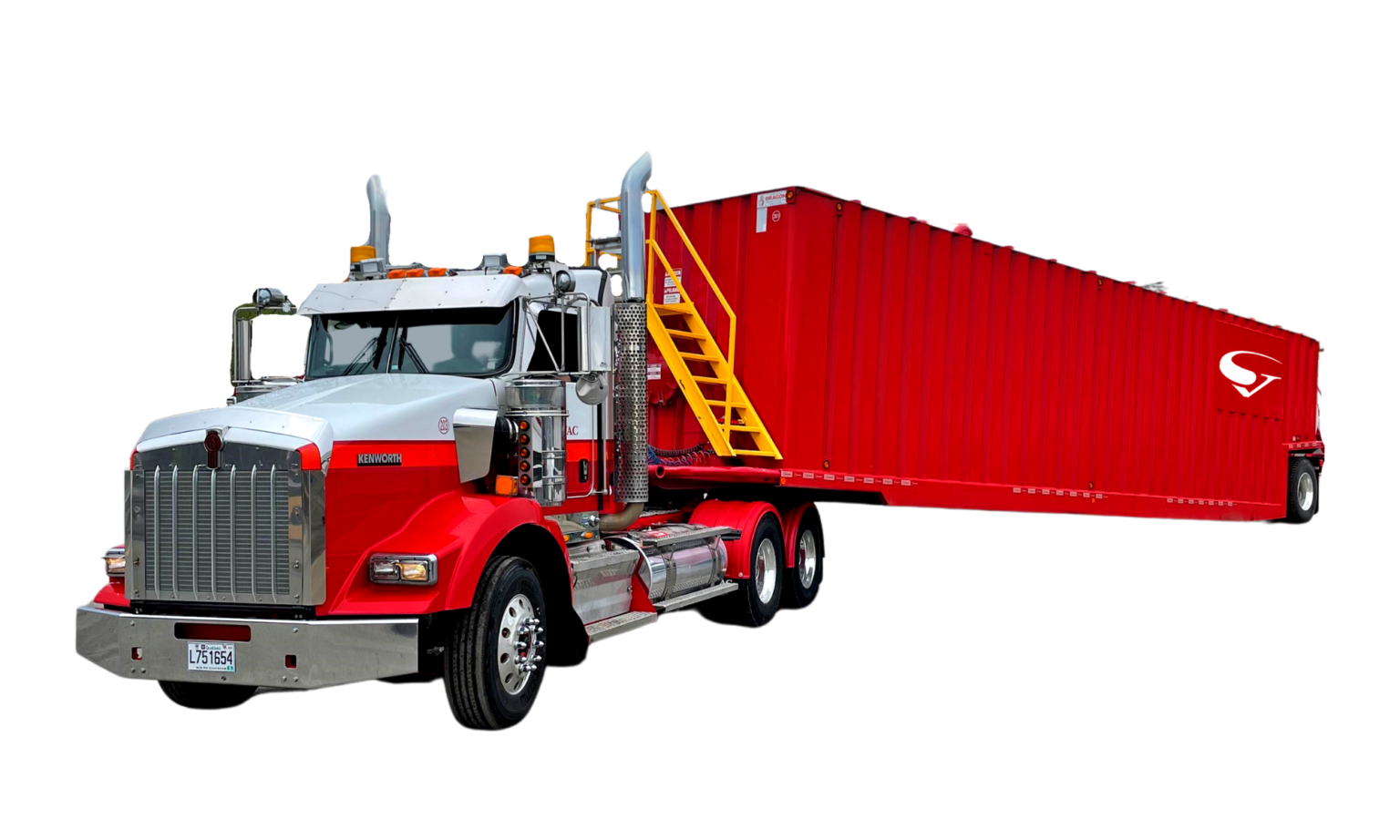 The Sanitank is a waterproof, mobile and large-volume tank for the management of liquid materials, sludge, pumping water or non-abrasive contaminated water. The tanks have up to 21,000 gallons of capacity. The Sanitank tank is mobilized and moved thanks to its rear wheels and our trailer truck which allows mobilization and delivery by our team.